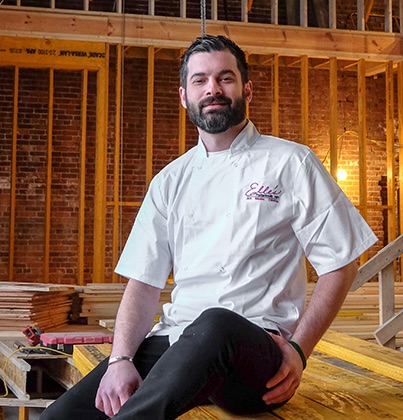 Chef Nathan Varney can get downright philosophical when discussing his passion for food. More specifically, his passion for creating next-level culinary experiences using locally sourced ingredients grown by farmers and fishermen who become his friends.
Sure, serving as a chef at a series high-end restaurants across the country has been about preparing memorable meals, but it is also about cultivating personal connections with the people who provide his ingredients.
Fascinated by the "art and science" of cooking, he said that, at the most basic level, his life's work as a chef is about "the pursuit of deliciousness." Discussing his appointment as the corporate executive chef for The Labrie Group, Chef Nathan talked about his career travels and the excitement he feels as he returns to his home state.
After his early years working at his family's business in Nottingham inspired an interest in cooking, and also in taking "a sense of ownership in anything that I do," Varney attended Atlantic Culinary Academy (Le Cordon Bleu) in Dover.
Once he graduated, his spirit of adventure led him to historic Williamsburg, Virginia, to southwestern Pennsylvania, to New Orleans and, ultimately, back to New Hampshire.
At the Colonial Williamsburg Lodge and Conference Center in Virginia, Varney immersed himself in the fundamentals of classic French cuisine at a resort complex featuring multiple restaurants with 72,000 square feet of indoor and outdoor banquet space.
From Williamsburg, he expanded his knowledge of fine dining and what it takes to achieve and maintain the highest standards at Lautrec — a Forbes Five-Star and AAA Five-Diamond Restaurant located at the Nemacolin Woodlands Resort in Farmington, Pennsylvania.
Varney's quest to further develop his culinary skills then led him to join the John Besh Restaurant Group, based in New Orleans, where he held progressive roles and responsibilities, at multiple restaurants, assisting with two restaurant openings and banquets exceeding 1,000 guests.
Three years in Louisiana whet his appetite for a return home to New Hampshire, with a determination to focus on world-class, farm-to-table cuisine while connecting with the region's community of great local purveyors. And in June 2015, he joined the culinary team at the Mountain View Grand Resort & Spa in Whitefield, serving first as sous chef before being appointed executive chef, a role in which he directed all culinary operations for the resort's four dining venues, including the award-winning 1865 Wine Cellar as well as conference, catering and wedding functions.
At Mountain View Grand, Varney began to truly develop his passion for the personal aspect of his craft, for cultivating relationships with local farmers and foragers to source the freshest meat and produce for his farm-to-table menus. He and his team even started a small farm on the premises, striving to ensure that nearly all food served at the resort was sourced locally and prepared in-house.
As corporate executive chef at The Labrie Group, Varney plans to blend a variety of culinary styles, techniques and spices, with fresh, locally sourced ingredients and connections to create his own special version of New Hampshire-inspired cuisine.